Social media content, done for you, every single day.
We take social media off your daily "to-do" list so you can focus on doing what you do best – grow your business.
As a small business owner, you have about a million things to do every day, but posting to your social media pages doesn't have to be one of them.
We know it's not always easy to establish and maintain the social media presence for your small business. In fact, it can be challenging to find the hours or the know-how to make it happen.
That's where we come in.
F22 Social Media Management offers social media content management to help busy entrepreneurs like you maintain a solid presence on social media, so that when your customers and potential customers go looking for you, you're there. And you're not just there, you're there consistently, establishing your relevance, credibility, and approachability as a small business owner.
Expand Customer Base
Expand your customer basis with a dynamic Facebook Marketing strategy and advanced welcome tab.
Fully Managed
We help manage all of your business' social media campaigns. Research, plan and execute your custom social media marketing strategy.
Keep Customer Informed
Keep your customers informed with professional Blog Marketing, Twitter Marketing, and Facebook business accounts.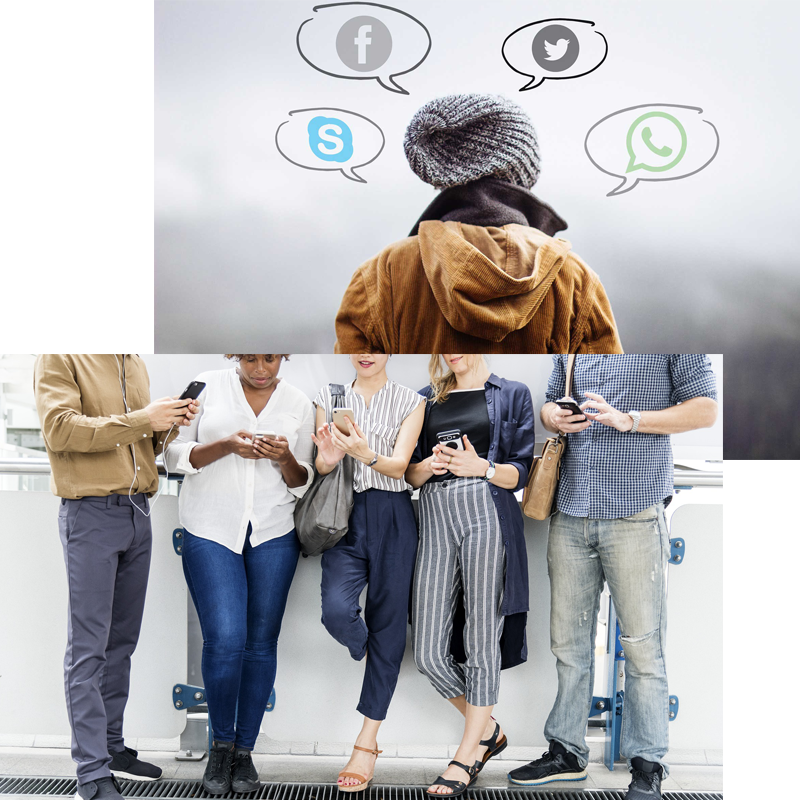 Content posted once a day, 7 days a week to Facebook and one network of your choice†
Unique content, specifically created for your business
Articles and images carefully chosen to interest your target audience
Weekly promotion of your company's products and services
Consistent use of hashtags to increase your chances of being found in social searches
Top-notch support via email, phone, and chat. We're here to help!
†Network of choice options: Twitter, LinkedIn, Google+, or Pinterest. Instagram is only available as a Lite or Deluxe add-on. *More networks available with other plans.

Still have questions about social media services for your small business?
Who will be working on my small business social media accounts?
A well-trained, dedicated Content Specialist will be the one finding and sharing content for your accounts. Our Content Specialists are just that – specialists in social media content. They spend hours scouring the web, searching for relevant content to share on your accounts. Their goal is to engage with your audience the way you would if you had the time. We're big on taking ownership and responsibility for our work, and it shows in everything we do.
All of our Content Specialists are native English speakers so your social media pages will look like you are the one posting day after day.
How will you know what to post for my company?
Once we receive your order, your dedicated Content Specialist will begin researching your industry, competitors, and target audience. By the time the first post hits your social media pages, your Content Specialist will know just what your audience is looking for. And that's the key to effectively using Social Media!
Can I still post on my own profiles?
Of course! They belong to you, and you can be involved as much or as little as you'd like.
What if I have specific products, promotions, or specials I want you to promote?
Just send us an email with what you'd like us to share for you, and we'll pass it along to your Content Specialist. Our friendly Support Team is happy to make sure your requests are handled just right. You can email specific instructions to support@f22designs.com anytime, and we'll do whatever we can to get them implemented quickly.
Do I have to sign a contract?
We believe in earning your business month after month, so there's no contract involved. You can cancel anytime you'd like. But we are confident you'll love our service and want to stick around for a long, long time!
Wait... I still have questions!
We can help! Please visit our Help Center for more information about our company, services, pricing, and much more.
F22 Internet Solutions has helped my small business create a dynamic social media presence. They ably develop specially worded tweets and posts for my targeted customers and it is paying off for us. As a small business, this has helped us immensely since we are always in the field and have limited time to managed our social media accounts. They are easy to work with and very responsive to our requests for changes in the posting language. I have recommended them highly to many other small business owners and will continue to do so.