Trailed as everything from a Facebook-killer to a fundamental shift in company-wide strategy upon its arrival, Google+ has failed to really catch fire with users worldwide and has acquired a reputation as something of a digital ghost town in certain quarters.
Google are a long way from pulling the plug on this project, however. A major relaunch of Google+ has just been announced, promising enhanced ease of use and a much tighter focus on its core competencies.
In this article, we'll cover the background to this revamp and dig into the all the major details of the newly-landed redesign. By the time we're finished, you'll have a clear picture of where Google+ is heading and why.
Let's start with a trip down memory lane.
The Turbulent Early Times of Google+
Launched in June 2011, Google+ was far from the search giant's first bite at the social cherry. Previous efforts included Google Buzz, Google Friend Connect, and Orkut but none – Orkut's mysterious popularity in Brazil aside – ever really managed to gain widespread traction with social users. The hope with Google+ was to finally square up to the challenge of Facebook and get Google back in the social game.
It was an initiative with roots right at the top of the organization – spearheaded by Vic Gundotra who managed to persuade Larry Page to make the launch of Google+ a key plank in his overall strategy in his new role as CEO in early 2011.
As a recent in-depth piece from Mashable makes clear, the feeling inside the company at the time was very much that Google had dropped the ball by allowing Facebook to build up such a head of steam in the social space, and that it faced a very real threat to its overall future from that direction.
There was certainly no shortage of muscle behind the initial rollouts of Google+. As early reporting on the platform's launch made clear, it was given enormous priority internally in Google with an incredibly aggressive initial development and launch schedule.
The company also took the controversial step of trying to force registrations as part of signing up for other Google services. That was an approach that angered many at the time, and has cast doubt on reported numbers of users ever since.
Hints of a Change of Direction for Google+
As Facebook's dominance of the social realm continued more or less uninterrupted over the last five years, hints of a change of direction for Google+ started to appear and there were even rumors of its imminent demise.
The platform's internal photo app was one of the few standout successes of Google+ so the news that it was to be spun off into a separate service called Google Photos was seen by some as a sign that things may have been winding down.
Google Hangouts was another of the technical aspects of Google+ that had attracted praise since its launch and it too was given its own separate online home in 2015.
The rationale behind these decisions (along with the dropping of enforced Google+ profiles as part of overall usage of services) was eventually explained by Google as part of creating a "more focused Google+ experience" – a foreshadowing of the redesign that has now finally landed.
The Arrival of a New Google+
The various hints and rumors of a change of direction for the platform were finally confirmed in November, 2015 with the announcement of an entirely new version of Google+.
Rather than spring the new look on users all in one go, Google are taking a staged approach to the redesign and offering users the ability to switch between old and new versions in their accounts.
If you're logged into your Google+ account and hit the homepage, you'll currently be greeted by a pop-up inviting you to take the new-look version for a spin.
If, for some reason, you're horrified at the changes that await you, you have the option of reverting to the previous interface of Google+ at any time by clicking the Back to classic G+ link that's anchored to the bottom left of your screen.
Be aware, though, that this option to switch between versions is sure to eventually go away as the full rollout of the new version gathers pace.
Google have stressed that one of the main features of the new-look version is an overall tightening of focus and emphasis on mobile-first design. One of the first places you'll see this is in the revamped home stream which is a substantially cleaner affair than previous versions.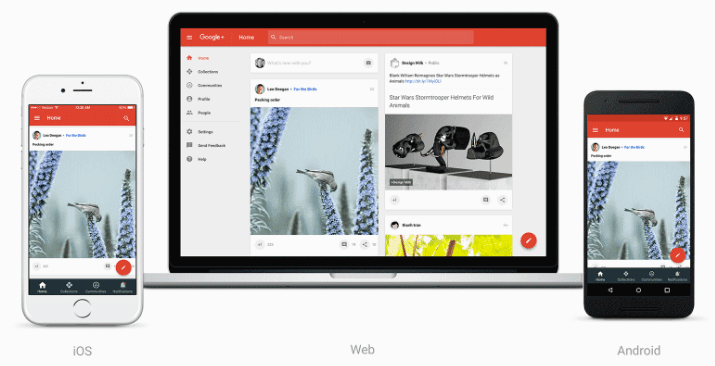 Early reports saw some users being pleasantly surprised by an overall increase in speed and responsiveness. Google have gone into some detail on the technical underpinnings of that feat with a deep dive on the redesign over at Google Developers.
The new version is completely responsive across the board and considerably more lightweight. To take just one of the examples highlighted by the development team, the home page weight has been stripped down from a previous total of 22,600 KB to just 327 KB – a pretty impressive technical achievement!
You'll also see that Google+ is now fully ported over to Material Design with a whole slew of resulting small changes throughout the interface to bring it in line with other offerings that have already made the transition.
Revamped Android and iOS apps are also part of the new approach but have attracted some less than stellar reviews so far.
The heart of the redesign, however, centers around two aspects of functionality in particular and that's where we'll turn our attention to next.
Collections and Communities at the Heart of Google+
Next to the revamped home stream, the major focus of this latest version of Google+ is its emphasis on Collections and Communities. As a recent Techcrunch interview with Google+ Product Director Bradley Horowitz makes clear, this is largely a result of Google trying to double down on aspects of the service that have had the most success with users to date.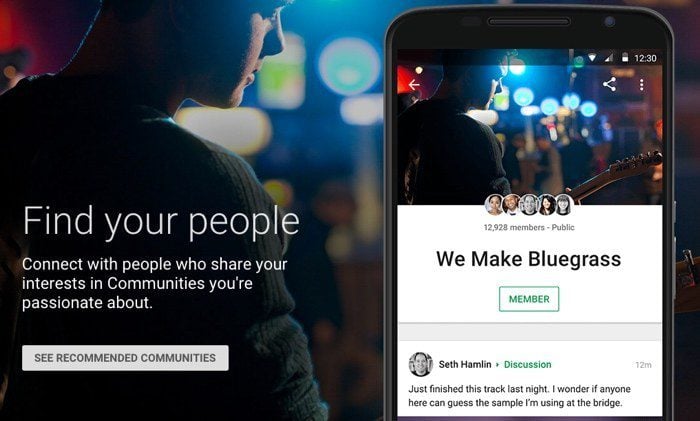 Communities have been a part of Google+ since way back in 2012 as Google's take on the forum and message board concept. We've covered them in depth here on the blog before and, with over 1.2 million new community joins per day, they're definitely one of the platform's unqualified successes.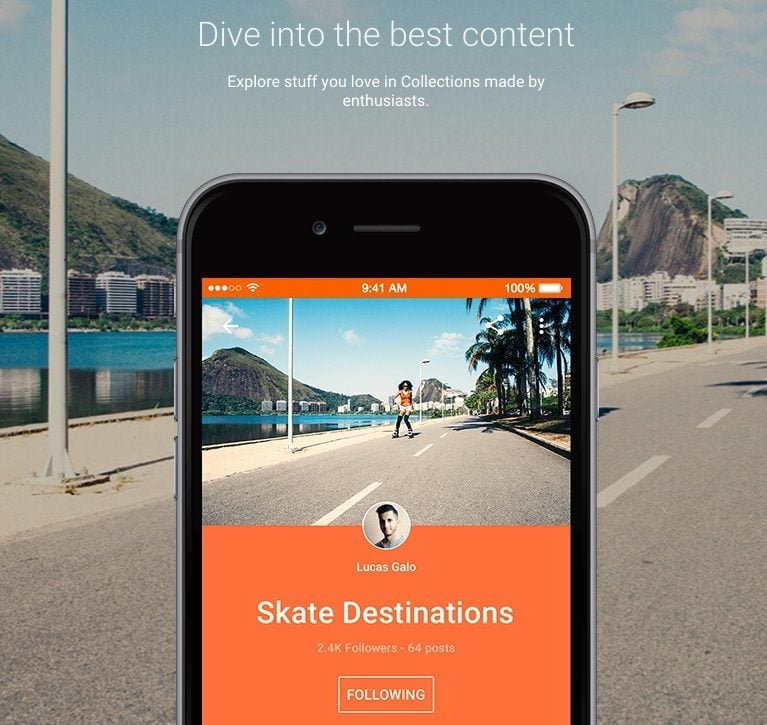 The concept of Collections were introduced earlier in 2015 and have been seen in some quarters as an attempt to capture some of the market share Pinterest has carved out for itself of late.
Taken together, the highlighting of these two pieces of functionality shows a strong move towards interest-based communities for the platform, in contrast to its previous poorly defined mission of being a "social layer" on top of Google services generally.
You'll see this reflected in the navigation options highlighted in the new version of Google+ with Collections and Communities front and center throughout.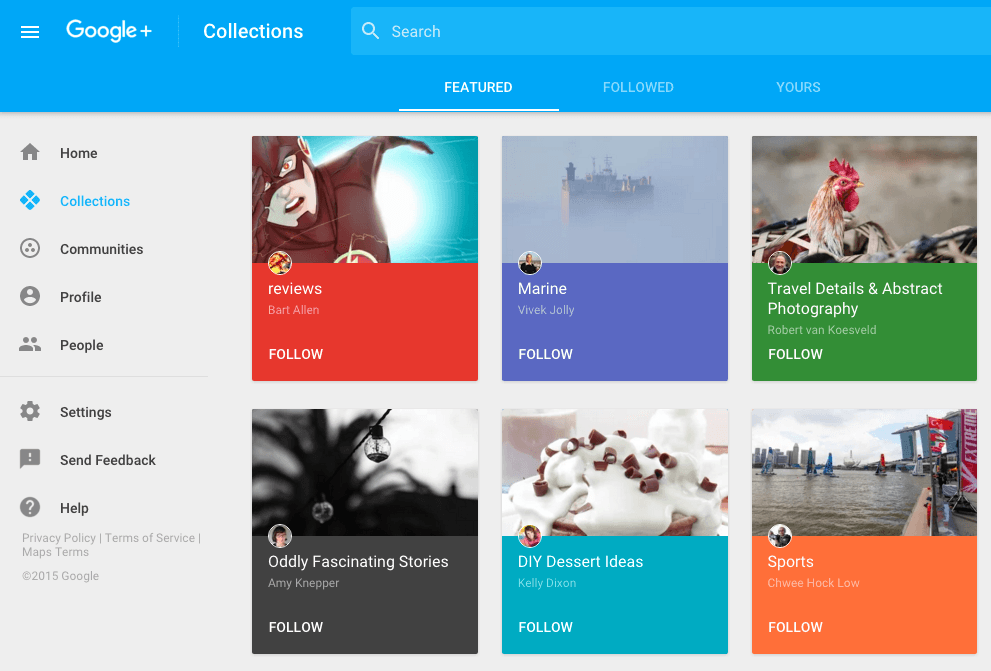 Many people will be wondering what's happened to Circles in the new version of the software. They're still there, but you'll have to do some digging to make them as prominent as in previous versions. Go to Settings > Advanced Settings and then flick the Enable circle stream in navigation option to resurface them.

Further Changes in the New Google+
Communities and Collections are at the core of the new Google+, but there have been some other changes behind the scenes that are also worth mentioning. Let's step through the main ones:
The status of Events is unclear: Though Google have stressed that the overall redesign will be rolled out in stages, Events don't seem to have made the cut so far and are nowhere to be seen in the new web design (though they can be added via the Android app). There could be an announcement yet to come but for now it looks as if Events may be on the way out.
Local business reviews are gone: As Marketing Land have a done a great job of summarizing, local business reviews are no longer shown on Google+ Pages. Other previously displayed information such as addresses, phone numbers and opening hours have also bit the dust suggesting a move away from encouraging businesses to maintain a presence on Google+.
Comment flagging automation seems to be stepped up: This is another one to be filed under "provisional results" for now. As Mike Elgan points out over at Computer World, potentially dodgy comments used to be flagged and made available for review, whereas they now seem to be automatically marked as spam with no option to override.
Streamlined profiles are in: Google+ profile pages have been simplified to put the emphasis squarely on Collections, Communities, and posts, with Photos disappearing entirely.
As we mentioned previously, the staged rollout of the new Google+ means that we still don't have a complete picture of all aspects of the overall redesign so there's undoubtedly more to come.
The main thrust of the changes is clear, though. If it's a feature not related to Communities and Collections in a core way, you can expect it to be a candidate for the chop.
Conclusion
Google+ has had a rocky ride over the years. If you had to put the blame for its woes on one underlying cause, lack of focus would be very near the top of the list.
The recent relaunch shows a refreshing clarity of purpose in stripping the interface down to its essentials and centering the overall user experience around two clearly defined pieces of functionality – Collections and Communities.
The overall concept of being "focused around interests" is a strong one and gives Google+ a solid central idea to build out from while finally clearly differentiating itself from Facebook.
We're curious to hear your thoughts on the platform's new direction. Are you already testing the new look and feel or sticking to classic Google+ for now? Get in touch via the comments and let us know!
Article thumbnail image by GongTo / Shutterstock.com.